Pearl Jam Poster Calgary Dec 2 2013 S/N Silkscreen Variant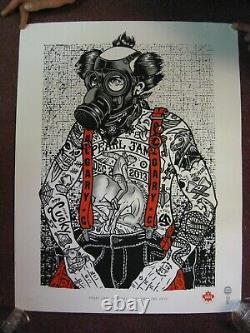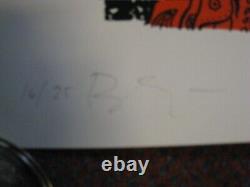 Pearl Jam Poster Calgary Dec 2 2013 S/N Silkscreen Variant. This concert poster is approximately 20 inches by 26 inches. It is in mint condition. This poster is signed & numbered by the visual artist & is 16 of 25. It is packaged in a hard cardboard tube.
Variants are getting harder and harder to find. This variant is one of our favorites. Conversion Table: Inches to Centimeters.
12 x 12 inches is approximately 30 x 30cm. 11 x 17 inches is approximately 28 x 43cm.
12 x 18 inches is approximately 31 x 46cm. 18 x 24 inches is approximately 46 x 61cm. 20 x 30 inches is approximately 51 x 76cm. 24 x 36 inches is approximately 61 x 91cm. For other dimensions please use the following conversion rate: 1 inch is equal to 2.54 centimeters, and 1 centimeter is equal to.
If you have any difficulties with calculating dimensions, please let us know. The math-geniuses at Postersultan will be happy to help you out!
Or at least we can try. If you would like to know more about us, our business or our products please check out our about me page. Items are sent in Hard Cardboard Tubes. This is due to the FACT that the Canadian postal system is just destroying things.
We will be checking with UPS and moving to them evenually. ATLEAST 1 OUT OF 10 ITEMS NEVER REACHES ITS DESTINATION. WE ARE VERY SORRY ABOUT THIS AND HOPE YOU CAN UNDERSTAND. Dont make the pictures too blurry or you may return the item at your expense. They are more clearly stated in our about me page. You can see them by clicking on the word ME next to our username POSTERSULTAN. Powered by SixBit's eCommerce Solution.